Choosing A Coach
When you are ready to advance beyond the group lesson environment, you will need to select a coach to give you private lessons on club ice sessions. GGBFSC has many qualified coaches available for lessons. A current listing of coaches, their qualifications and fees is posted on the club website. Talk to other skaters (and parents) who have been skating a while to see what their experiences have been like, talk to coaches you have an interest in, and watch them working with their students.
Be aware that there is a limited amount of ice time at all rinks, and instructor's schedules will fill up. You may not be able to make arrangements with your first choice. You will deal directly with the coach, not the club or rink to set up lessons and pay fees.
Your coach is a critical part in your skating experience. It is important to heed their advice. They will determine suggested practice times, and make suggestions regarding testing and competing. In general, a coach may spend about 15 to 20 min. per 55 min sessions on the ice with a skater.
You will receive a separate bill from your coach for time spent with each skater. They also charge for time spent with the skater at test sessions and competitions, as well as travel expenses.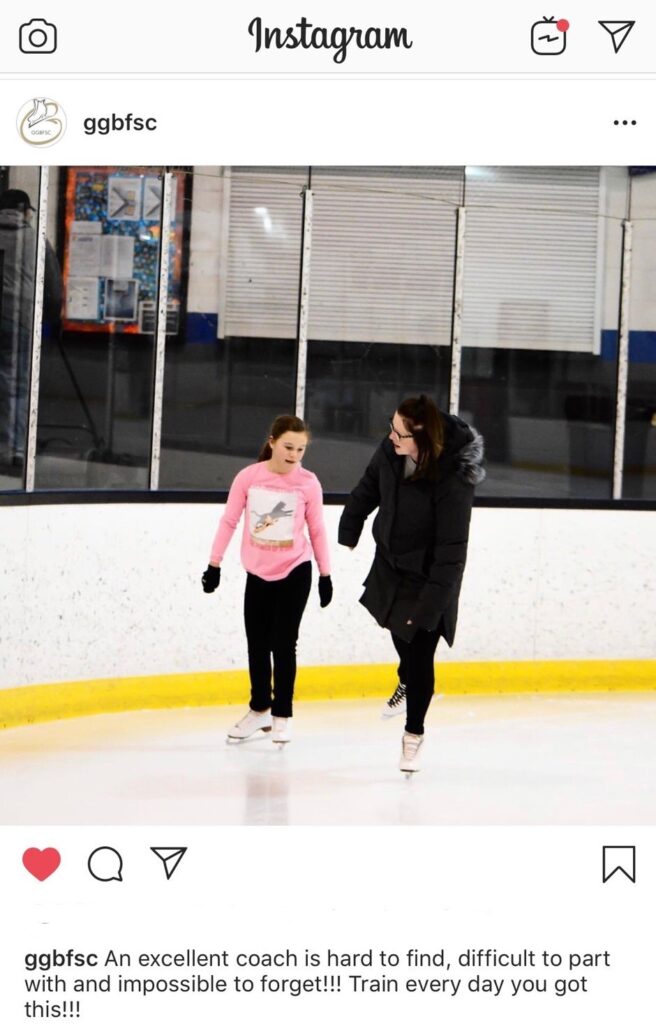 Changing Coaches
The relationship between skater and coach is, of course, very important. Parents are usually a key additional component. Courtesy and communication are vital in this partnership, but when special situations arise and a coaching change is requested, USFSA offers the following guidelines regarding the proper and ethical sequence of behavior.
First, inform the current professional: the skater or parent of the skater should discuss with the current professional the desire to discontinue the business relationship. Once the final bill is paid, lessons can begin with a new professional.
The new professional must confirm with previous professional that the resolution of the relationship has taken place and that the final bill has been paid before giving any lessons to the skater.
Next, approach the potential new professional: the skater or parent of the skater should approach the new professional to set up lessons. (Again, this should take place only after the current professional has been informed of the desire to discontinue lessons.)
The potential new coach should remind the skater or parent to discuss the situation with the current coach. The parent or skater must pay the final bill to the current coach before starting lessons with the new coach. The new coach should confirm with the previous coach that notification has been provided and that the final bill has been paid. The new coach and the parent or skater can set up lessons.
GGBFSC does not act as intermediary between pro and member. We urge each party to resolve the situation both privately and respectfully. In the event of any unresolved issue the GGBFSC Board of Directors will provide advice and suggestions; and may exercise its right to authorize a final decision in the matter.
You are expected to respect all pros who teach on the ice and they in turn will respect and help to protect your rights as a member of GGBFSC.
All pros must be USFSA members and approved by the GGBFSC Board of Directors. The board recommends the pros follow the code of ethics as outlined by the Professional Skaters Association (PSA) and requires the same respect be given the GGBFSC rules.
Coach

Skating Background:




5 years professional ice show experience with Holiday on Ice and various US shows as a principle, semi principle, chorus, pair step out, and pair understudy, a member of the International Skating Training Academy in Holland, Trained with Olympic coaches for singles and pairs worldwide





Coach

Skating background:

Coaching professionally since 2013- starting at my home clubs Merrill Ice Reflections and Timberline FSC. I began skating at 3 years old and it's been a part of my life ever since! During my career, I've trained all over North Central WI, Minnesota, and Green Bay. 

Skating background:

Over 5 years private coaching experience. I started skating at 3 years old.

Coach

Skating Background:




4 years competitive experience as Team USA on junior/senior synchronized skating teams. Former member of New York Skyliners senior synchronized skating team. 18 years of individual figure skating experience and 10 years of synchronized skating experience.





Coach

Skating Background:




Two years of Learn to Skate coaching experience, assistant coach for private homeschool lessons for two years, main coach for private homeschool lessons during 2021-2022 school year.

  



Coach

SKATING BACKGROUND:

Professional ice show experience with Rosstyn Ice Shows and currently pursuing a career as a show skater. 15+ years of figure skating experience with training in freestyle, ice dance, adagio pairs and MITF. Double gold medalist and 8+ years of competitive figure skating experience. I find myself wanting to share my passion with others so that they too can experience the joys figure skating has to offer.

Coach

Professional/Coaching Experience:




I have been taking skating lessons for almost 15 years. I have helped with teaching skating to all ages and levels throughout my skating career. I was on the De Pere high school skating team for two seasons. We placed 1st, 2nd, and 3rd in moves in the field.





Coach, Choreographer

Professional/Coaching Experience:


I have been involved in figure skating for most of my life. I am passionate about creating a life experience
for the skaters that I am privileged to work with. My goal is to give every skater the opportunity for growth,
goal setting and achievement, and a sense of confidence and creativity in their skating.