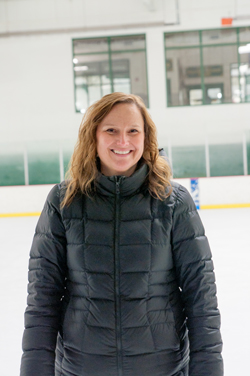 Private Lesson Rate:
$ 40 / hour
Skating Background:
Skated as a member of the DePere FSC which then changed to the Greater Green Bay FSC from 1979 – 1990.
Personal Levels Attained:
Novice Freeskate and 3rd Figure.
Professional / Coaching Experience:
30+ years of coaching experience in all levels of Basic Skills, Moves in the Field and Freestyle. Skaters that have attained their Senior Moves and Senior Freeskate.
PSA rated in Freestyle. Coach of many Regional competitors. Have continued my education in skating by attending PSA events and seminars.
Other Credentials:
Personal Background:
Bachelor of Science degree in Business with a minor in Human Development. Mom to Nathan, Kennedy and Sierra.