Registration
Fall Session: Sept. 24 Oct. 1, 8, 15, 22, 29 Register now on Entryeeze
Next Session: Holiday Session- Nov. 5, 12, 19 Dec. 3, 10, 17
Class times:
Online Online Registration New members select Apply for Membership. Existing Learn to Skate members click on Access My Account.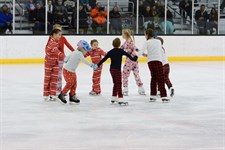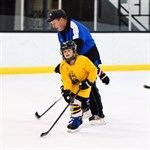 Class Levels
For a curriculum chart, click on the class level name below.
Free Skate
Prerequisite: Basic 6
Attire
Skaters should dress in layers of comfortable clothing that will allow flexibility, such as knit pants. Snow pants are okay. We recommend a hat, gloves and warm coat.
Helmets are strongly encouraged for beginning skaters.
Single blade, sharpened skartes are required. Skate rentals are available at the rink.