SPRING SHOW: Business Ads Needed
Our Spring Show will take place on May 21 and the theme is Away We Go!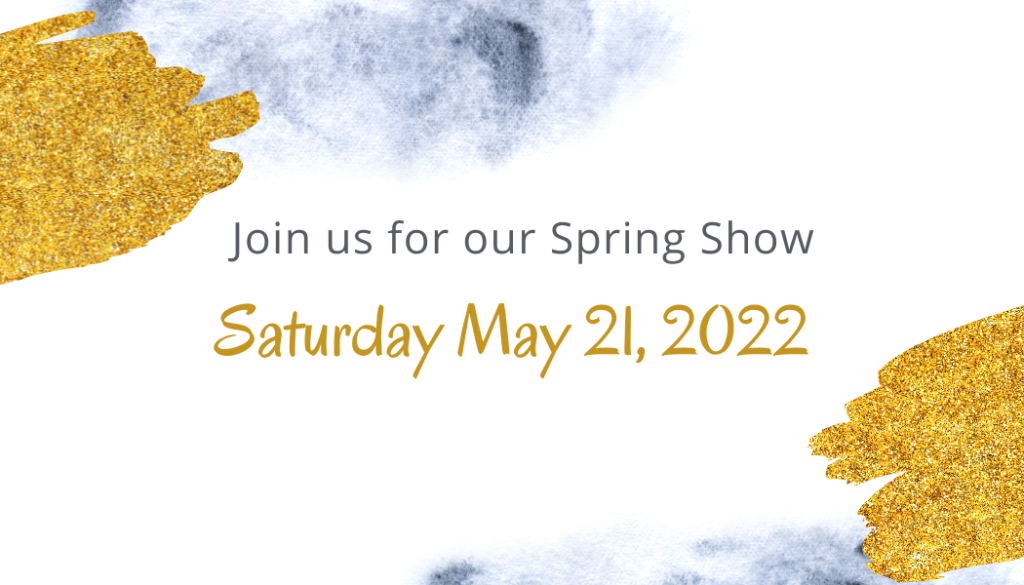 Aspire Camp 2022
The GGFSC is offering another Aspire Camp this summer! Mark your calendar for Tuesday, Aug 16 from 8:30-4:30.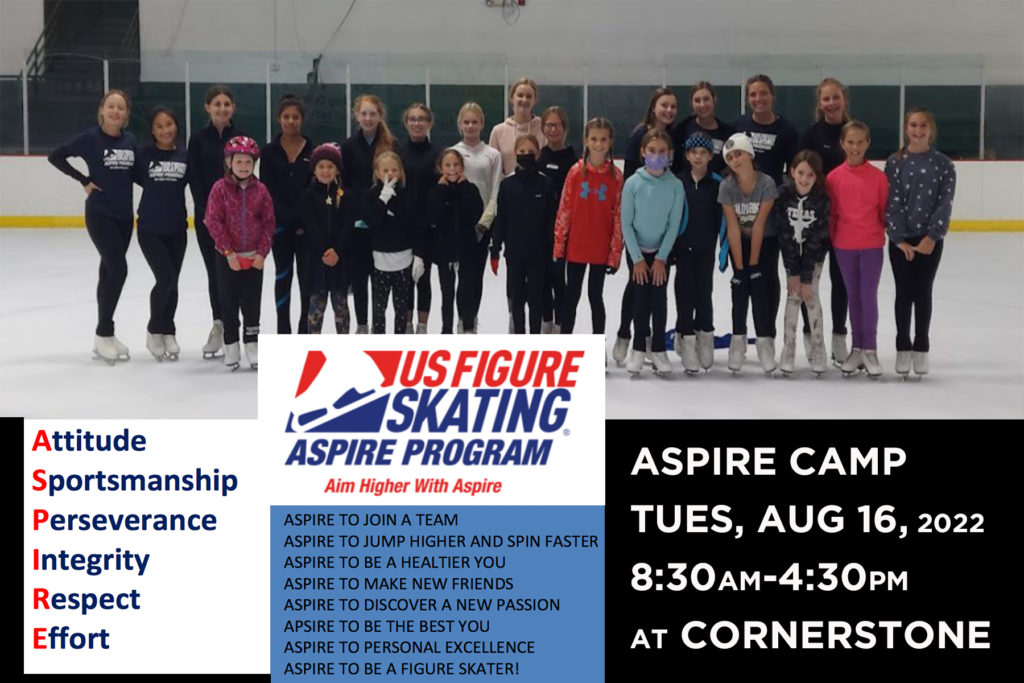 KICKS WORKSHOP
If your'e interested in the club's Synchronized skating team, this is a great way to try it out!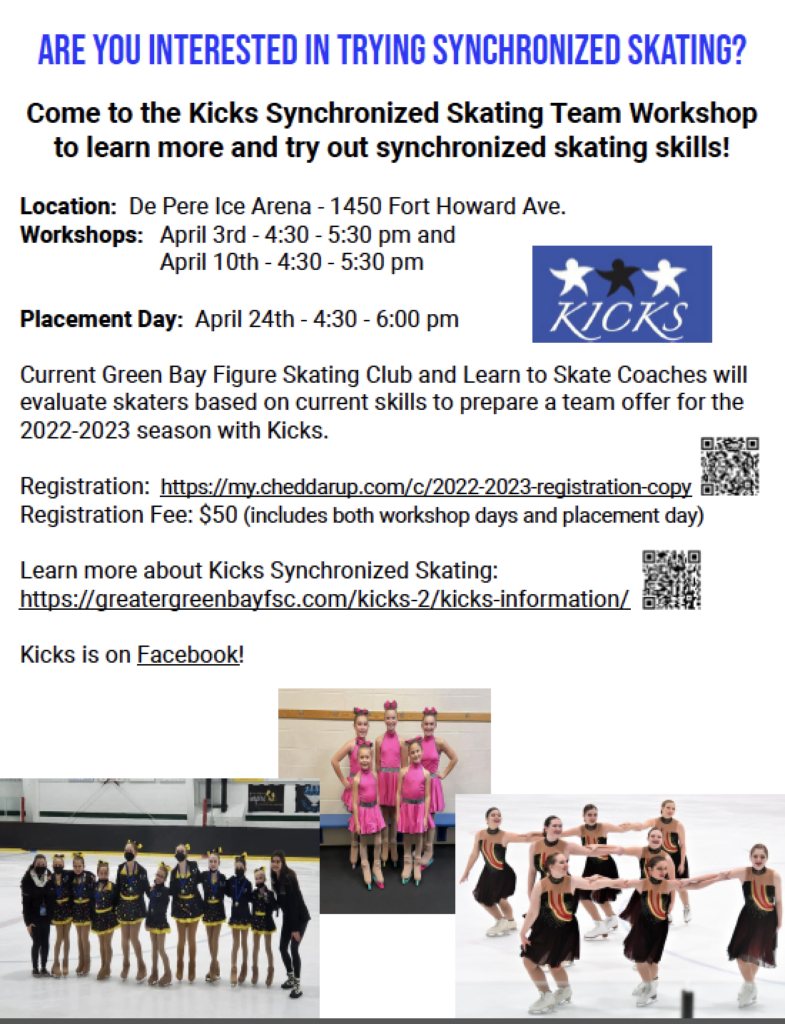 Winter II is underway and we love to see all the familiar and new faces! Hope all the skaters have fun while enjoying a great sport!
Upcoming classes:
Thursday March 31 April 7, 14, 21, 28 May 5 (6 week session)
Saturday April 2, 9, 16, 23, 30 May 7 (6 week session)

9:20 – 10:20am
Hockey-9:50-10:50am
Synchro-10:30-10:50am

Registration date will be announced soon
Also, we are looking for GGBFSC Club members age 13+ to help out. If interested, please email coach Leah at leah.johnson@gmail.com
Is your skater interested in trying Synchronized Skating?
This session, we will be offering this as a specialty class! Skaters Basic 1 and up are invited to sign up to learn basic synchronized skills: lines, wheels, blocks, circles and more! This is a great opportunity for your skater to continue developing their skating skills while also participating in a team activity. This class will introduce you to our KICKS Synchronized Skating Program! For more information on Synchronized Skating, feel free to check us out on the GGBFSC Website!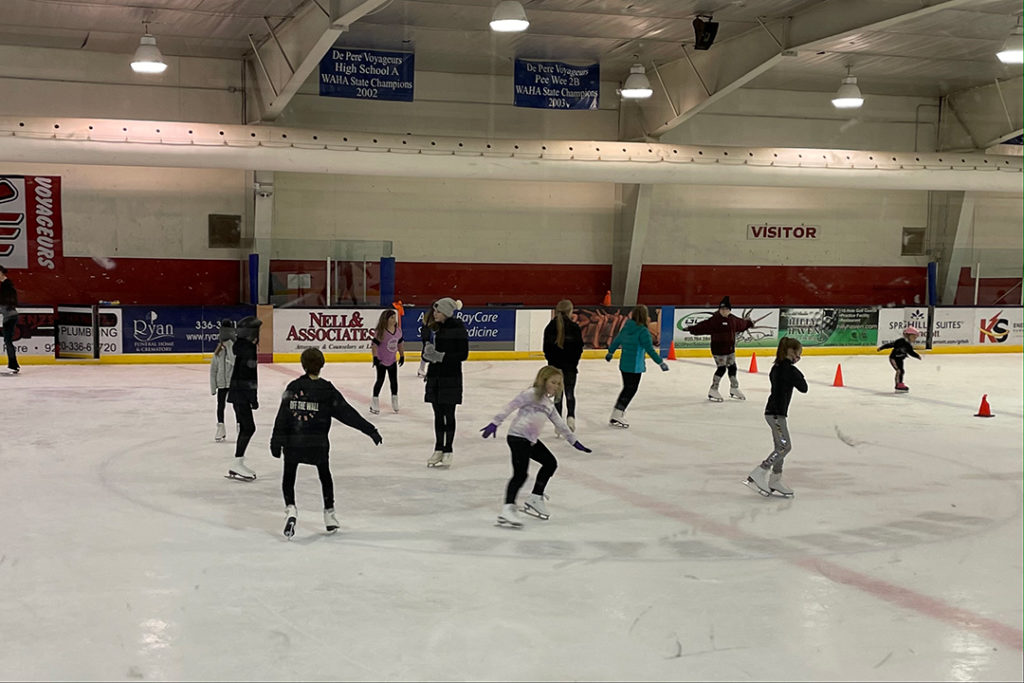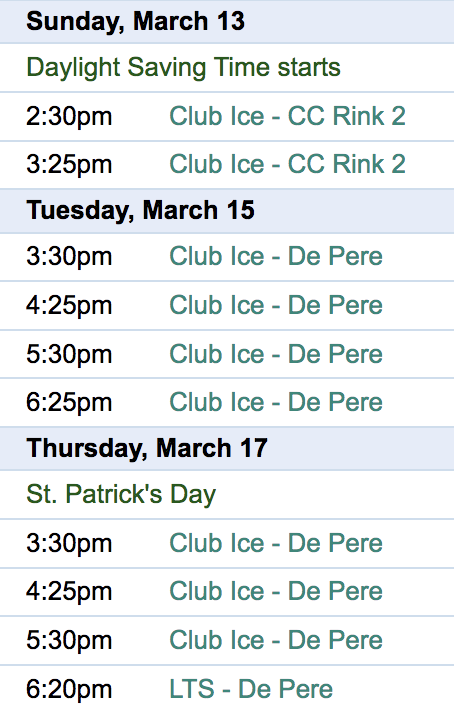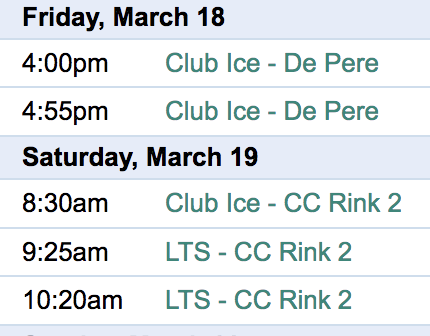 Ice Schedule
Spring Ice Sheet now available!
All ice must be contracted by 11:59 pm the day before the session. If you miss that deadline and want to skate, you can use a coach's reserve to still skate.
Reminder that a skater can skate on club ice without a coach. This is a great opportunity for practice time.
To access the full calendar use this link.
Boy/Girl Scout Event
April 9th, 2022
11:30-1:30 at DePere Ice Arena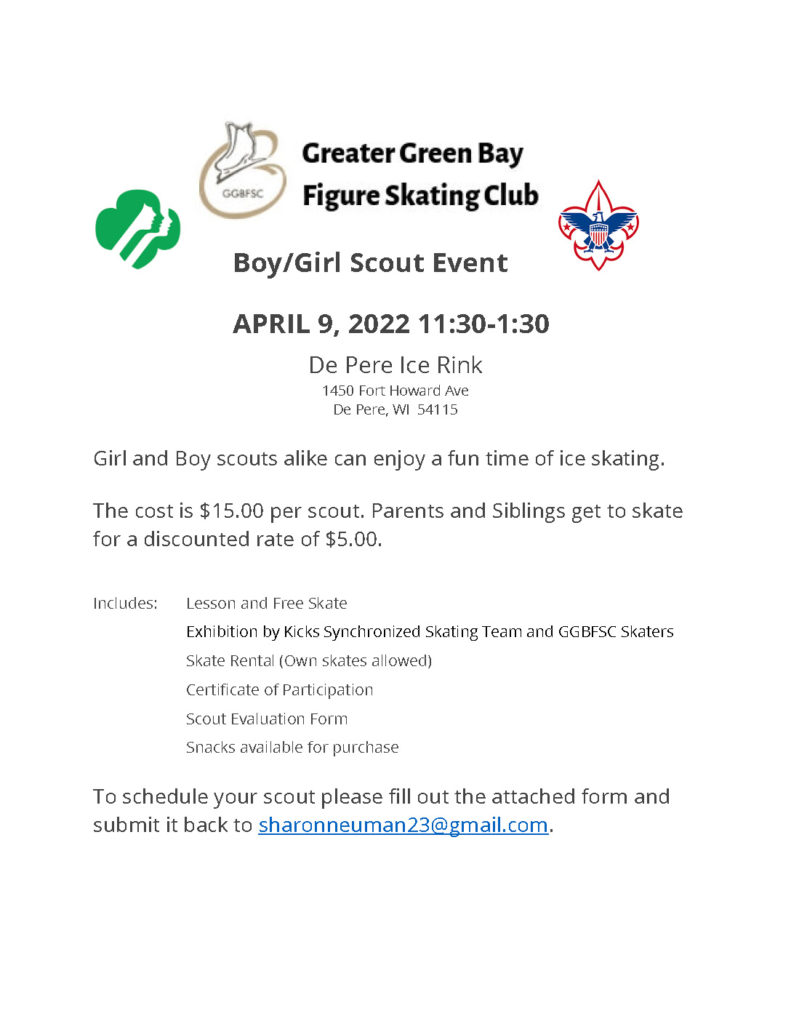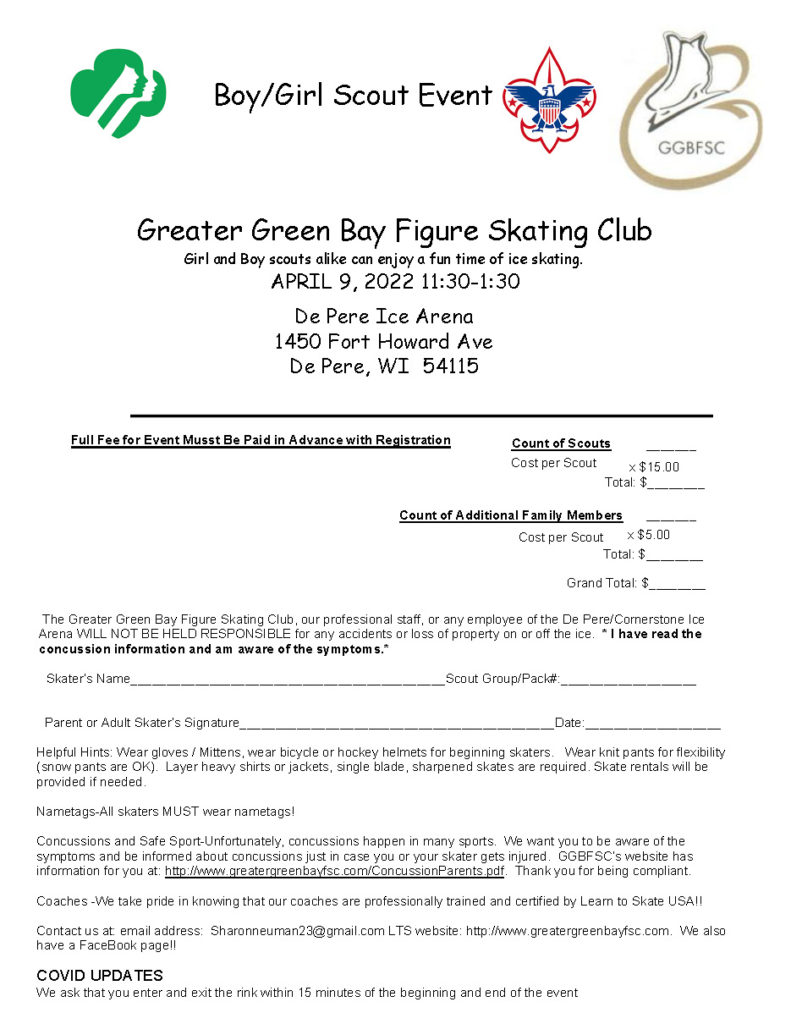 Balances Due
Please note that your fundraising balances have been applied to entryeeze. The remainder is due April 22, 2022. Thank you for all your support!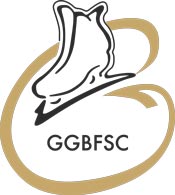 Competitions and Test Sessions
Check out these competitions and test sessions at other clubs:
Watch the national Entryeeze website for additional competitions. From the homepage, click Skaters, then use the state menu.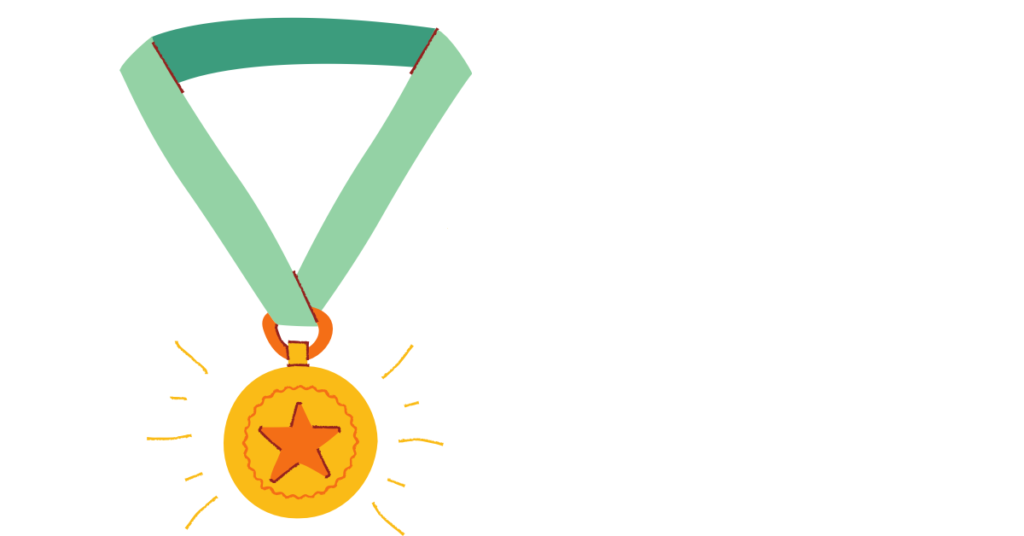 Subscribe to the Newsletter
Now you can be notified about a new newsletter us using an RSS Feed at the end of any page. You can also click on the "follow it" icon at the end of the newsletter to have your newsletter delivered to your inbox using feed.it An email will be sent to your inbox with the link just like we do now. Here is a video of how to sign up.
Board Minutes
If you don't have access to the minutes, you can request access with your GGBFSC registered contact email.
Team App
GGBFSC uses TeamApp for last minute notifications.

---
Subscribe to the Newsletter
Click on the "Follow Us" link below to subscribe to the newsletter. Video instructions.

---
---
Comments, Questions Concerns for the GGBFSC Board?
We have a form! We want to help. This form is submitted to only the Executive Board which is made up of the GGBFSC President, Vice-President, Secretary and Treasurer. Submissions are treated with the strictest confidentiality to maintain the integrity of all parties involved.
Drop us a line!
Please submit all announcements for the newsletter by THURSDAY the week you would like the information to be added to the newsletter.
We would love to share pictures of our skaters on Facebook and Instagram.