Save the Date: March 3-5
The Greater Green Bay FSC will host a Winter Mini Camp March 3-5 with a test session on March 5. Deadline is Feb 24!
The camp and test session will take place at the De Pere Ice Arena.
NEW: Registration Form now available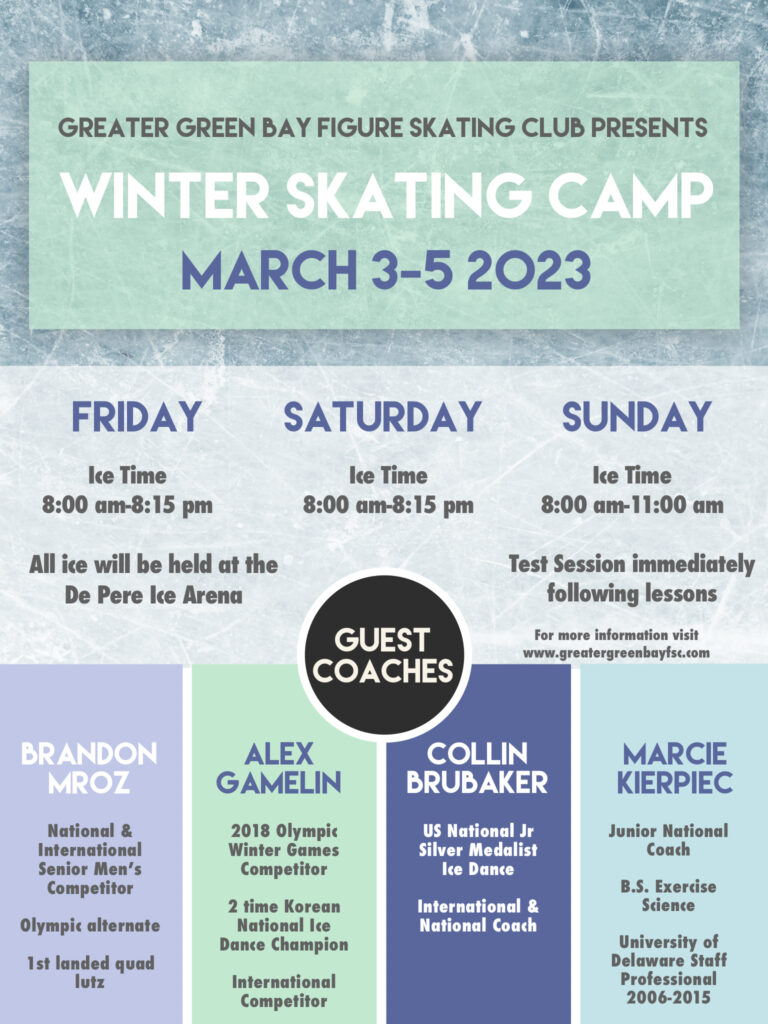 Ice Monitoring Update!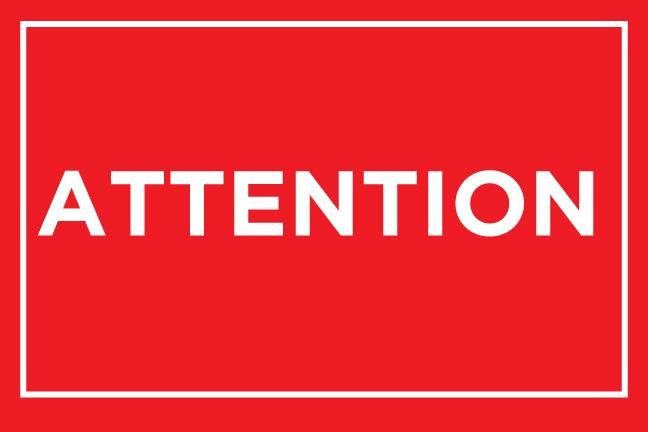 Everyone is required to volunteer 4 hours for Ice Monitoring in the Fall and 4 hours in the Spring.
We have heard that many families are finding it hard to find available ice sessions to ice monitor.
Good news! The board agreed to allow hours for this Spring session to also be done in the Summer. So, we have until June 30 to get those 4 hours in.
Congratulations!
Congratulations to all our club skaters who participated in the Badger State Games.
Featured in these photos:
Kiera who earned a 1st place and two 2nd place finishes. She'd like to thank her coaches Brittyni and Heather for their contributions and experience.
Macenzi took 2nd place in her Freesytle.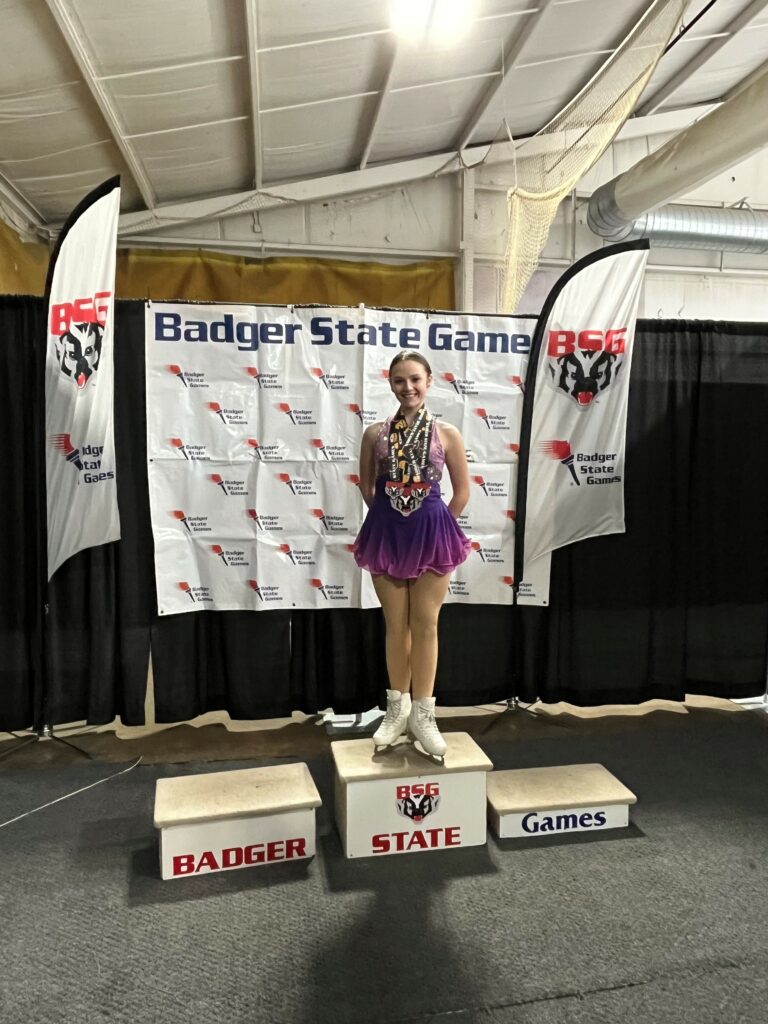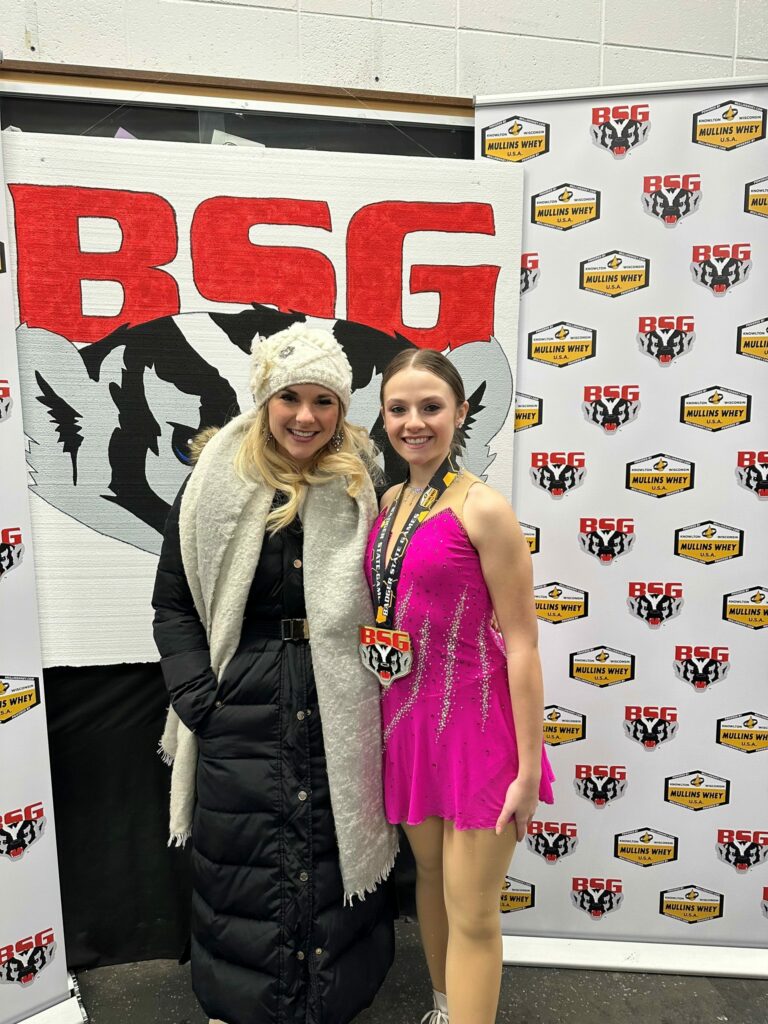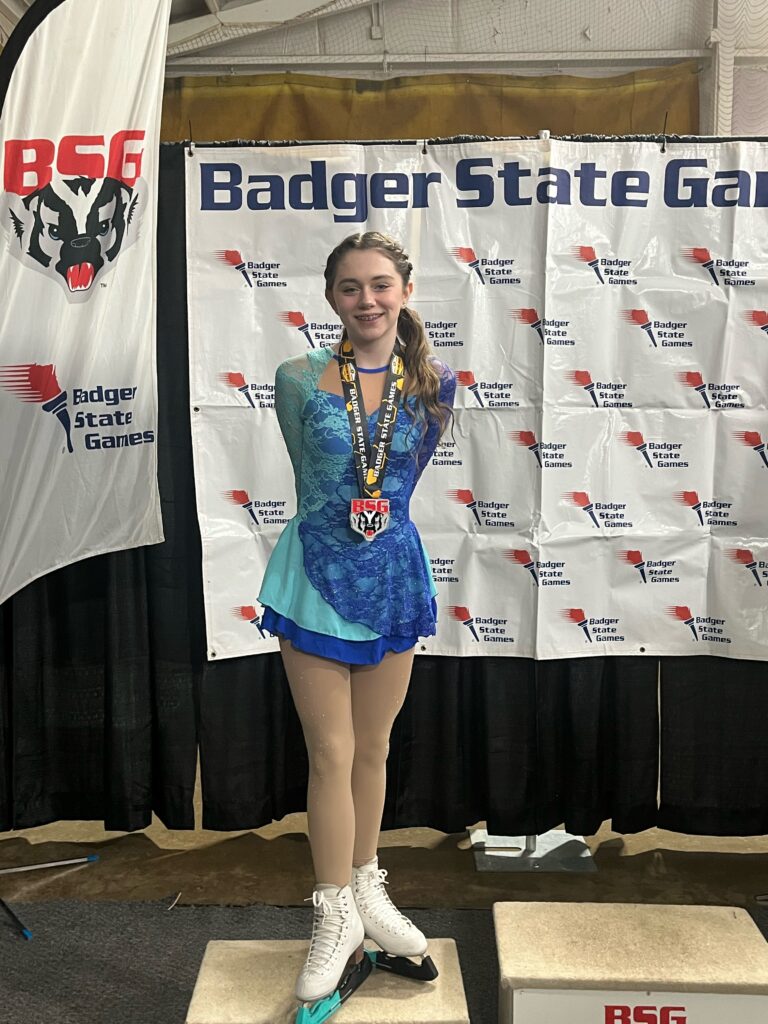 Registration is now open for next Learn to Skate session
Winter II -Registration Open
Thursday – February 23 March 9, 16, 23, 30 April 6 (6 week session)
Saturday – February 25 March 11, 18, 25 April 1, 8 (6 week session)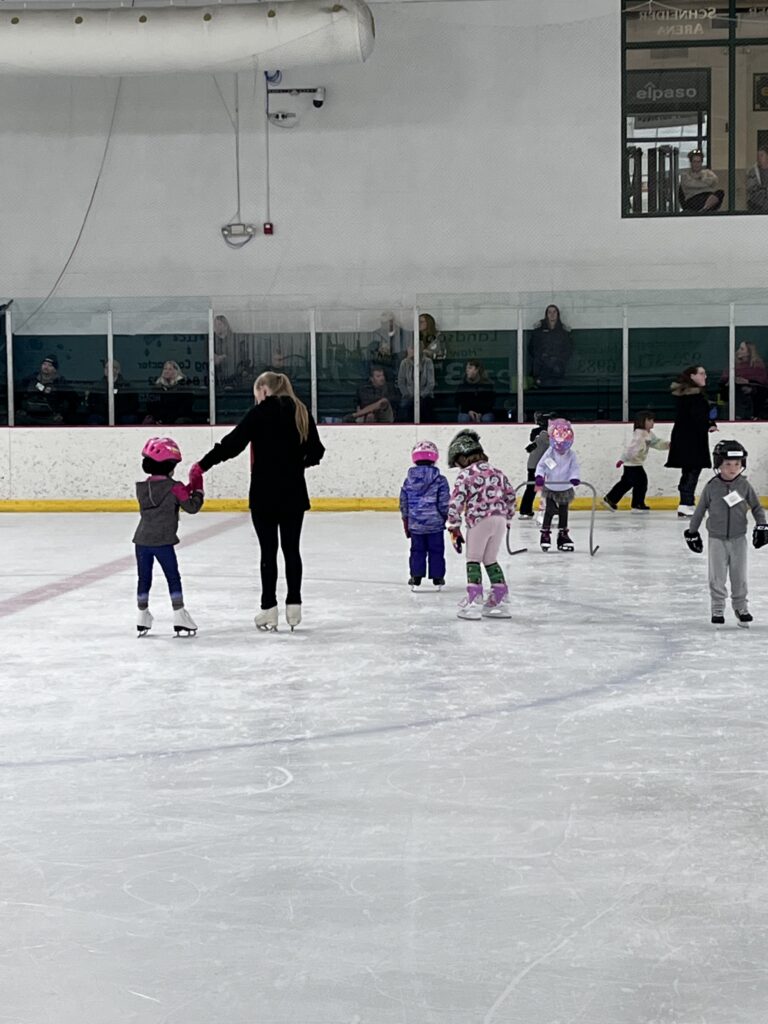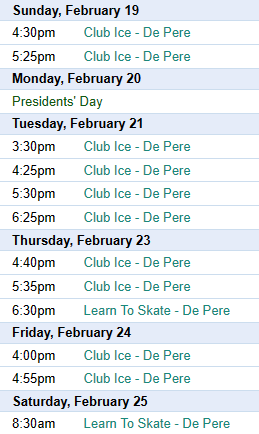 Ice Schedule
Please note-there is an event going on March 12 at the rink, so the club ice has to be cancelled that day. Thank you!
All ice must be contracted by 11:59 pm the day before the session. If you miss that deadline and want to skate, you can use a coach's reserve to still skate.
Reminder that a skater can skate on club ice without a coach. This is a great opportunity for practice time.
To access the full calendar use this link.
Interested in Synchronized Skating?
Join KICKS Synchronized Skating for a Spring Workshop & Placement Day! During these workshops, we will practice synchronized skating skills: lines, wheels, blocks, circles and more! This is a great opportunity for your skater to continue developing their skating skills while also allowing your skater to receive an offer for Team Placement for the 2023- 2024 KICKS Season, giving your skater the option to join the team!
Workshops will be held on March 26 and April 2 (2:25 – 3:15pm) with Placement Day on April 16 (3:00-4:20pm), all at De Pere Ice Arena. All club skaters are invited to join.
If you'd like to sign up or view more information, please use this link: KICKS Workshop and Placement
Please contact us at kickssynchro@gmail.com or our Web Page.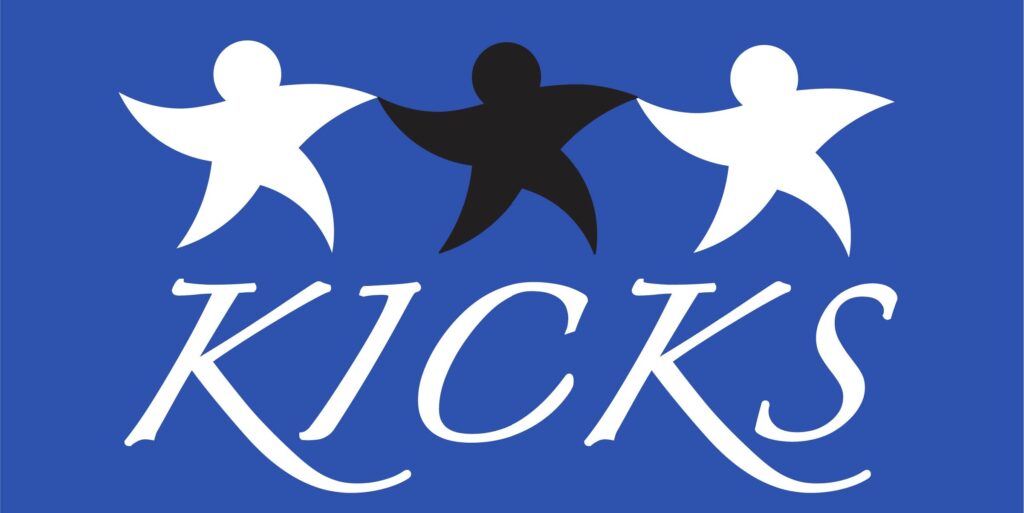 Club Fundraisers
All ways to raise money for the club: https://greatergreenbayfsc.com/members/fundraising/
KICKS Fundraiser
KICKS is holding a fundraiser with KWIK TRIP! Car wash cards are 5 ultimate washes for $36. There are also regular gift cards in increments of 5, 10, 20, 25, 50, 100, 200, and 500. See any KICKS team member for purchase.
Competitions and Test Sessions:
Watch the national Entryeeze website for additional competitions. From the homepage, click Skaters, then use the state menu.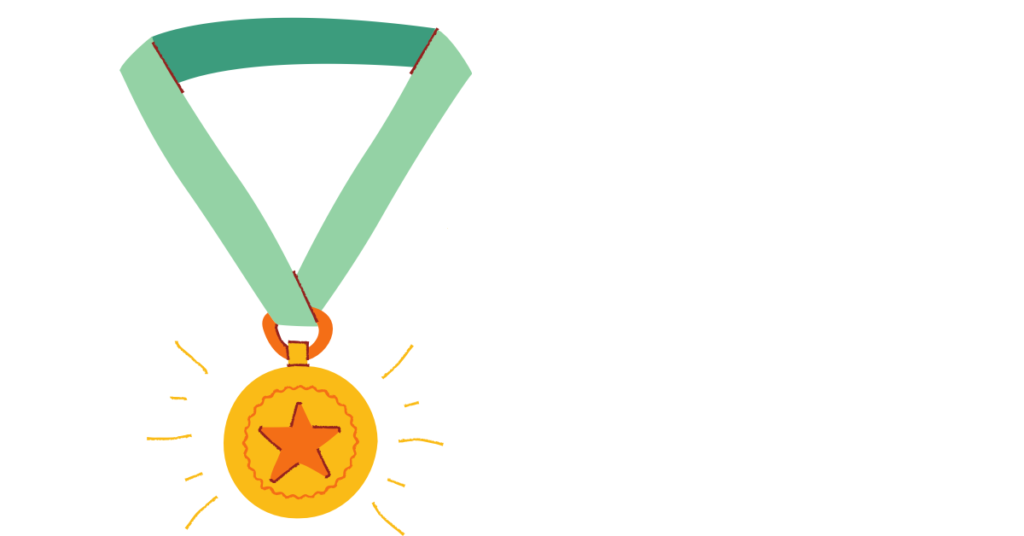 Subscribe to the Newsletter
Click on the "Follow Us" link below to subscribe to the newsletter. Video instructions.

Comments, Questions Concerns for the GGBFSC Board?
We have a form! We want to help. This form is submitted to only the Executive Board which is made up of the GGBFSC President, Vice-President, Secretary and Treasurer. Submissions are treated with the strictest confidentiality to maintain the integrity of all parties involved.
Drop us a line!
Please submit all announcements for the newsletter by THURSDAY the week you would like the information to be added to the newsletter.
We would love to share pictures of our skaters on Facebook and Instagram.