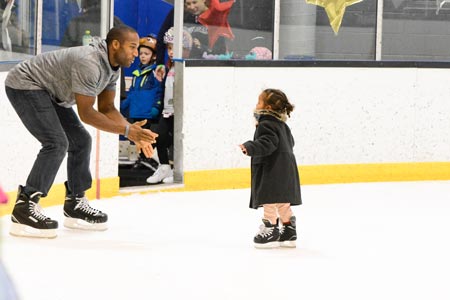 How Much Does Ice Skating Cost?
The following is a summary of ice skating costs that skaters may encounter as their training advances. While some club members may never require all of the services listed, other skaters may elect to make investments beyond those mentioned here.
Skates
All skaters need to own at least one pair of well-fitting ice skates. (See the skates and ice skating attire page for more information). Rental skates simply don't provide the support and blade quality necessary for serious ice skating. It is always wise to consult your coach about whether to buy new or used skates, as well as where to buy them.
Skate Sharpening
Skate blades need to be sharpened regularly; the frequency depends upon how much time the skater spends on the ice.
Ice Skating Attire
To be comfortable (and safe!), skaters absolutely must wear appropriate clothing for practice ice. In addition, skaters who elect to participate in competitions and/or shows usually need special costumes.
Ice Time
Every time skaters take the ice, they essentially buy ice time from the GGBFSC. In freestyle sessions, for example, fees reflect the fact that the number of skaters on the ice is limited, allowing skaters to work on advanced skills without the distractions of crowding.
Your expense will depend on how many sessions you skate. The GGBFSC offers ice in four segments: fall, winter, spring, and summer.
Testing Fees
Each skater must pay a fee upon submitting his or her registration for a USFSA test. This fee helps to offset testing costs, such as rental of ice time and judges' reimbursement for transportation.
Rates vary according to the kind of test taken. (See the testing page for more information.) You will also be billed by your coach for the time he or she spends with your skater at the test.
Competition Fees
Every competition charges an entry fee, and these vary widely.
Your coach will also charge for the time she spends with your skater at the event. His or her lodging and transportation expenses will normally be divided equally among the skaters he or she is taking to the competition. Of course, you will incur travel expenses as well if the competition is out of town.
Skaters may also sign up for practice ice at the competition rink for an additional fee.
Private Lesson Coaches
Each coach charges by the hour, and it is your responsibility as a skater or parent to pay your pro directly.
Off-ice Training
Many skaters who test and/or compete find that off-ice training helps them to be successful. This may include, for example, such disciplines as ballet and other forms of dance, strength training, conditioning, flexibility training, Pilates, and plyometrics.
The costs for these types of training vary, depending on the source and frequency of instruction.
Music
Music is an essential component to the success of any program. All coaches charge a fee for such program editing and recording services. The fee will depend on the length of the program.